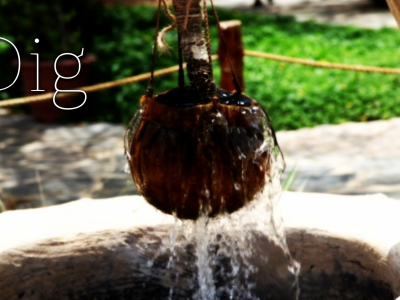 January 10, 2019
Genesis 26:12-25 New International Version (NIV)
12 Isaac planted crops in that land and the same year reaped a hundredfold, because the Lord blessed him. 13 The man became rich, and his wealth continued to grow until he became very wealthy. 14 He had so many flocks and herds and servants that the Philistines envied him. 15 So all the wells that his father's servants had dug in the time of his father Abraham, the Philistines stopped up, filling them with earth.
16 Then Abimelek said to Isaac, "Move away from us; you have become too powerful for us."
17 So Isaac moved away from there and encamped in the Valley of Gerar, where he settled. 18 Isaac reopened the wells that had been dug in the time of his father Abraham, which the Philistines had stopped up after Abraham died, and he gave them the same names his father had given them.
19 Isaac's servants dug in the valley and discovered a well of fresh water there. 20 But the herders of Gerar quarreled with those of Isaac and said, "The water is ours!" So he named the well Esek, because they disputed with him. 21 Then they dug another well, but they quarreled over that one also; so he named it Sitnah. 22 He moved on from there and dug another well, and no one quarreled over it. He named it Rehoboth, saying, "Now the Lord has given us room and we will flourish in the land."
23 From there he went up to Beersheba. 24 That night the Lord appeared to him and said, "I am the God of your father Abraham. Do not be afraid, for I am with you; I will bless you and will increase the number of your descendants for the sake of my servant Abraham."
25 Isaac built an altar there and called on the name of the Lord. There he pitched his tent, and there his servants dug a well.
 John 4:4-24 (NIV)
4 Now he had to go through Samaria. 5 So he came to a town in Samaria called Sychar, near the plot of ground Jacob had given to his son Joseph. 6 Jacob's well was there, and Jesus, tired as he was from the journey, sat down by the well. It was about noon.
7 When a Samaritan woman came to draw water, Jesus said to her, "Will you give me a drink?" 8 (His disciples had gone into the town to buy food.)
9 The Samaritan woman said to him, "You are a Jew and I am a Samaritan woman. How can you ask me for a drink?" (For Jews do not associate with Samaritans.)
10 Jesus answered her, "If you knew the gift of God and who it is that asks you for a drink, you would have asked him and he would have given you living water."
11 "Sir," the woman said, "you have nothing to draw with and the well is deep. Where can you get this living water? 12 Are you greater than our father Jacob, who gave us the well and drank from it himself, as did also his sons and his livestock?"
13 Jesus answered, "Everyone who drinks this water will be thirsty again, 14 but whoever drinks the water I give them will never thirst. Indeed, the water I give them will become in them a spring of water welling up to eternal life."
15 The woman said to him, "Sir, give me this water so that I won't get thirsty and have to keep coming here to draw water."
16 He told her, "Go, call your husband and come back."
17 "I have no husband," she replied.
Jesus said to her, "You are right when you say you have no husband. 18 The fact is, you have had five husbands, and the man you now have is not your husband. What you have just said is quite true."
19 "Sir," the woman said, "I can see that you are a prophet. 20 Our ancestors worshiped on this mountain, but you Jews claim that the place where we must worship is in Jerusalem."
21 "Woman," Jesus replied, "believe me, a time is coming when you will worship the Father neither on this mountain nor in Jerusalem. 22 You Samaritans worship what you do not know; we worship what we do know, for salvation is from the Jews. 23 Yet a time is coming and has now come when the true worshipers will worship the Father in the Spirit and in truth, for they are the kind of worshipers the Father seeks. 24 God is spirit, and his worshipers must worship in the Spirit and in truth."